Hayward Lake Outpost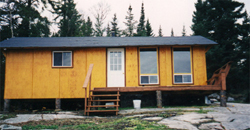 Hayward Lake, 35 miles (20 minutes) west of our Tukanee Lake Base is 3 miles long x 1 mile wide, has a sandy, rocky structure with weeds and has a variable depth from 10 to 20 feet. There is a long stretch of sandy beach across the lake from the cabin. Herrick Lake, a 4 mile long lake with excellent Northern, Walleye and Perch fishing is accessible from the north end of Hayward Lake.
The island cabin is built of wood frame construction, is 14 x 26 ft with built in beds and foam mattresses, propane lighting, wood burning airtight for heat, a full size propane refrigerator with top freezer, a full size propane cookstove with oven. All cooking utensils and dishes are supplied.
14ft aluminum boats with 9.9 horse power, 4 stroke outboard motors are available for each 2 fishermen.