McCoy Lake Outpost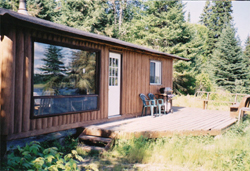 McCoy Lake, 34 miles (20 minutes) north of our airbase, is 2 1/2 miles long and 3/4 mile wide is shallow and weedy. Middle Lake, a short portage from the southwest end of McCoy, also provides an excellent Northern and Walleye fishery.
The cabin is of log construction, 24 x 30 ft. It has two bedrooms with built in beds and foam mattresses, Coleman lanterns for light, wood burning air tight for heat, full size propane refrigerator and full size propane cookstove with oven. All cooking utensils and dishes are supplied.
14ft aluminum boats with 9.9 horse power, 4 stroke outboard motors are available for each 2 fishermen.